Gamebooks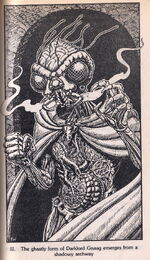 Gnaag, also known as Darklord Gnaag, is one of the chief villains in the world of Magnamund and one of Lone Wolf's greatest enemies. He arrived in that world in the year 3072 after the creation of the Moonstone (MS) along with the 19 other Darklords.
Gnaag was noted by his peers and by Carag as being the most intelligent of the Darklords and the master of Darklord politics. Through careful manipulation, and the murder of two fellow Darklords, he became Archlord of the Darklands in MS 5058.
After leading a campaign to conquer Magnamund, Gnaag nearly defeated the forces of Good and Lone Wolf by attempting to destroy three of the Lorestones of Nyxator which Lone Wolf was questing for, and then by sending Lone Wolf into the shadow world of the Daziarn. In the final book of the Magnakai series, The Masters of Darkness, Gnaag was defeated MS 5070 by Lone Wolf in single combat and was therefore condemned by the dark god Naar to an eternity on the Plane of Darkness for his failures.