The Curse of Naar
is the twentieth book in the award-winning
Lone Wolf
book series created by
Joe Dever
. This is the final book in the "Grand Master" series, and the last one released in North America.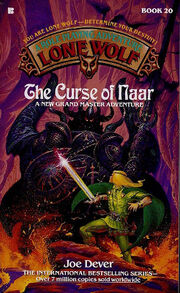 In this book you (in the guise of the heroic Lone Wolf) again travel to the Plane of Darkness. Your quest involves rescuing an artefact crafted by the Shianti - the Moonstone - from the Dark God's clutches. The Plane of Darkness is a predictably nasty place, and even a being as powerful as a Kai Grand Master may shrink from the challenge. Dare you face up to the Dark God Naar himself?
Internal link
Edit
External links
Edit
Community content is available under
CC-BY-SA
unless otherwise noted.