The Deathlord of Ixia
is the seventeenth book of the
Lone Wolf
book series, written by
Joe Dever
and illustrated by
Brian Williams
.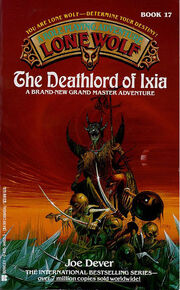 In the previous book (The Legacy of Vashna), Lone Wolf acquired the Deathstaff, created by the Dark God Naar, and used it to foil a plot to revive Darklord Vashna. At the end of The Legacy of Vashna, Lone Wolf collapsed a Shadow Gate which apparently sucked in and destroyed all traces of the plot, including the Deathstaff. This being done, Lone Wolf returned to the Kai Monastery, where he was soon visited by his friend, the Old Kingdom magician Lord Rimoah. He was then told about the Deathlord of Ixia, who was a lieutenant to Agarash the Damned during the Age of Eternal Night. In the wake of Agarash's fall, the Old Kingdom magicians sealed him in a magical prison in Ixia, and so feared was he that even the Darklords, having conquered the area surrounding Ixia, did not enter for fear of awakening and being subordinated to him. It turned out that the collapsing Shadow Gate had not destroyed the Deathstaff, but had instead emerged in Ixia. Its power was promptly used by the Deathlord's followers to break him free of his prison, and he began to prepare an undead invasion fleet to take over the world, with an army that would become bigger with every battle it fought.
Lone Wolf ventures from the human country of Lencia to Ixia, aboard a Lencian ship, but on the way they are attacked by the growing skeleton army of Ixia. The Lencian sailors are all killed and turned into the Deathlord's minions, but Lone Wolf escapes and makes it into the frozen and desolate city of Xaagon, the region's capitol. There he finds bustling activity as the undead prepare for their invasion of all Magnamund. Lone Wolf slowly makes his way to the Deathlord's chamber. Along the way, he encounters the Demonlord Tagazin, who he had fought on previous occasions, and destroyed him in combat. Following this, he is transported to the Deathlord's chambers and fights him to the death. Following the Deathlord's defeat, Lone Wolf scrambles to escape the city, as the ravages of time that were held off for thousands of years descend upon the city. Looking back from a distance, he sees the city in ruins, and for the first time in 10,000 years the sun breaks through the clouds over the land of Ixia.
Reception
Edit
This game is notable for the very elaborate plot and the extremely difficult combat skill of the Deathlord, making him one of the most difficult opponents in the entire series.
Internal link
Edit
External links
Edit
Community content is available under
CC-BY-SA
unless otherwise noted.