The Master of Darkness
is the twelfth book in the award-winning
Lone Wolf
book series created by
Joe Dever
. This is the final book in the Magnakai series.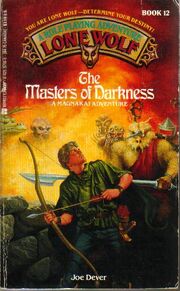 The final book in the Magnakai series again reveals the quirks of the Lone Wolf game system, including putting players who have not played through the previous books at a substantial disadvantage in terms of Magnakai skills and rank. Nonetheless, it is still possible to triumph.
After his struggles in the plane of Daziarn, Lone Wolf finally recovers the last of the Lorestones and finds a Shadow Gate back to his home. Unfortunately, upon his return, he finds that considerable time has passed and that, in his absence, the Darklords have conquered much of Magnamund. Lone Wolf and the reader must struggle to stop the raging Darklord menace once and for all.
Internal link
Edit
External links
Edit